May 10, 2022 at 8:00 am
By: Gary Romero, MS, MBA, CPC, CRC, CDEO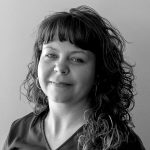 As you know, Certified Risk Adjustment Coders (CRCs) play a critical role in establishing accurate risk scores for patients for our CHCs, which promotes optimal patient care and ethical payer reimbursement for our providers and health plans.
As a credentialed CRC, she has expertise in the complexity of diseases associated with chronic conditions and comorbidities, as well as mastery of ICD-10-CM guidelines and risk adjustment guidelines. She is equipped both to ensure clinical documentation accurately portrays the patient's health status and ensures all clinically documented diagnoses are properly reported each year on each patient she reviews.
"I have been working within family practices my whole career. I started as a Medical Assistant for Salud in Ft. Collins in 2002. This is the place I learned the most! I enjoyed the full-scale duties of everything from procedures to OB care to pediatrics. I eventually moved to Aurora and worked as a medical assistant for Ponderosa Family Physicians. In 2012, there was a vacancy in the billing department. My clinical background gave me an edge in understanding not only the coding and billing side but enabled me to speak to patients in a way that they could really understand what was going on. It was about this time that the practice entered into Value Based Care contracts, and I was on the team to oversee this – thus my first encounter with an ACO. I learned quickly how important care coordination & population management is and what value it brought my organization.

I feel very satisfied that all my work in primary care has come full circle. I feel honored to be here at CHPA and given the opportunities I have. I am excited about the opportunities and even challenges that I'll face because I have a great team behind me. I'm also super proud to have received my CRC too so that I can contribute that much more." -Christine Smidt, BA, CPC, CRC

Congratulations, Christine!
To learn more about Christine and the rest of the team, visit chpanetwork.com/staff.