October 1, 2021 at 8:00 am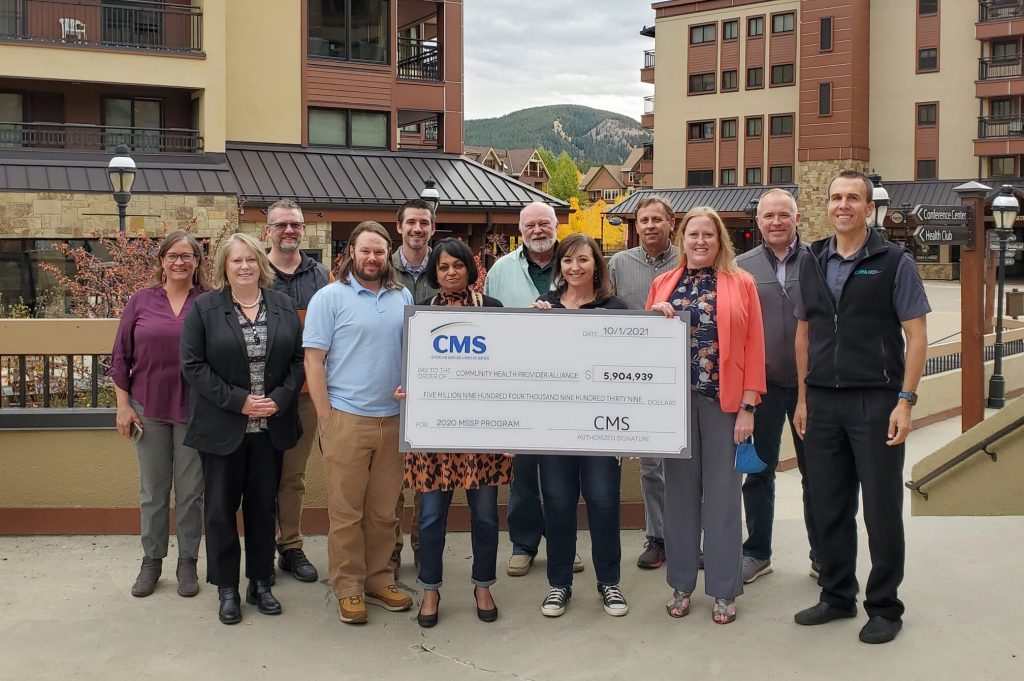 Full press release linked here: CHPA Press Release 10/1/2021
CHPA BOD 2020 MSSP Savings CheckPeak Vista 2020 MSSP Savings CheckValley-Wide 2020 MSSP Savings CheckPueblo CHC 2020 MSSP Savings Check
Denver, CO—Community Health Provider Alliance (CHPA) improved care for 17,021 Medicare beneficiaries in the state of Colorado and saved Medicare $15,239,755 by meeting quality and cost goals in 2020, according to recently released performance data from the federal agency that administers Medicare.
CHPA earned a quality score of 96.87 percent on performance measures ranging from preventive health checks to the use of computerized health records to preventing avoidable hospitalizations, Medicare data show. The $15,239,755 of gross savings to Medicare resulted in a shared savings payment of $5,904,939.87 of shared savings payments to CHPA, which will be distributed to the Community Health Center members in the MSSP program used for future infrastructure.
ACOs like CHPA are measurably improving care and saving money while maintaining patient choice of Medicare providers. For example, CHPA providers work to increase the number of Medicare beneficiaries taking advantage of annual wellness visits, including recommended screenings and preventive care. The ACO also focuses on ensuring smooth patient transitions from the hospital to home—or a nursing home if needed. All ACO providers receive detailed information about their performance on quality measures. And clinicians and providers share best practices to coordinate the care beneficiaries receive from different primary care and specialty providers and to prevent health issues and repeat hospitalizations.
CHPA Community Health Centers serving Colorado includes:
Axis Health Systems
Clinica Family Health Services
High Plains Community Health Centers
Marillac Health
Northwest Colorado Health
Peak Vista Community Health Centers
Pueblo Community Health Center
Salud Family Health Centers
Sheridan Health Services
STRIDE Community Health Centers
Summit Community Care Clinic
Sunrise Community Health
Tepeyac Family Health
Valley-Wide Health Systems
A market-based solution to fragmented and costly care, accountable care organizations (ACOs) empower local physicians, hospitals and other providers to work together and take responsibility for improving quality, enhancing patient experience and keeping care affordable. The Medicare Shared Savings Program (MSSP) creates incentives for ACOs to invest in transform care by allowing them to share in savings they generate after meeting defined quality and cost goals.
A fact sheet with more information about MSSP ACOs is available online, along with other resources — What is an ACO? — and the ABCs of ACOs.